Cyngerdd Blynyddol Cor Meibion Bro Aled 2015
Unwaith eto eleni, 'roedd y neuadd yng Nghanolfan Addysg Bro Aled dan ei sang i'gynerdd blynyddol y cor meibion lleol
Once again, this year the hall in the Canolfan Addysg Bro Aled was full to capacity for the local male voice choir's annual concert.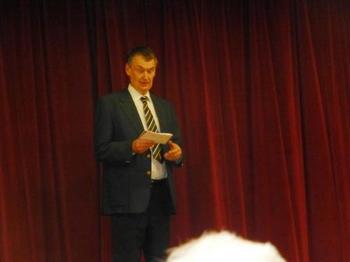 Arweinydd y noson ac un o aelodau'r cor-Jack
Jack-one of the choir members and the evening's compere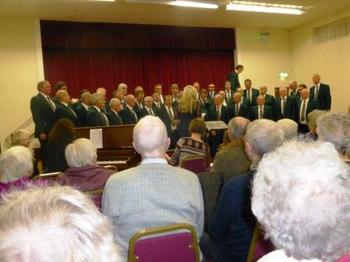 Y Cor dan arweiniad Angharad Ellis
The Choir with the Conductress, Angharad Ellis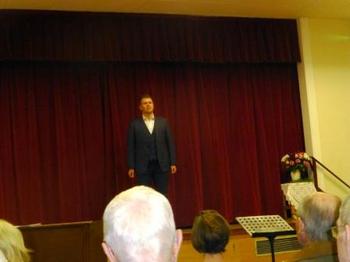 Rhodri Prys Jones
Fe magwyd y Tenor Clasurol Rhodri Prys Jones 22, yn Llanfyllin, Powys. Fe raddiwyd gyda gradd BA (Hons 2:1) mewn Cerdd a'r Cyfryngau o Brifysgol Cymru y Drindod Dewi Sant, Caerfyrddin, yn astudio gyda Buddug Verona James. Mae nawr yn ei ail flwyddyn Cwrs Meistr yn astudio'r llais yn Ysgol Cerdd a Drama y Guildhall yn Llundain,ac yn astudio gyda Adrian Thompson. Mae Rhodri newydd ennill Ysgoloriaeth Maidment, Help Musicians UK. Mae o'n hynod o ddiolchgar am eu cymorth. Mae Rhodri yn wyneb cyfarwydd ar deledu yng Nghymru ac mae wedi bod yn cystadlu yn Eisteddfodau ers oedd yn ifanc. Roedd yn ail ar Ysgoloriaeth Llais Llwyfan Llambed 2013, Cystadleuydd ar Ysgoloriaeth Bryn Terfel 2013 a 2015, Enillydd yr Her Unawd Eisteddfod Upper Chapel 2014, ag enillydd y gystadleuaeth Gan Gelf Eisteddfod Genedlaethol Cymru 2014. Dros yr haf diwethaf roedd Rhodri yn teithio led led y wlad gyda Opra Cymru yn perfformio'r Opera Eugene Onegin gan Tchaikovsky, lle roedd yn chwarae'r rol Triquet. Dros y flwyddyn diwethaf mae Rhodri wedi bod yn y corws i bob opera yn y coleg gan gynnwys ; Francesca di Foix, The Adventures of Pinnochio, San Giovanni Batista ac yn fwyddaf diweddar, The Cunning Peasant. Yn mis Tachwedd mi berfformiodd Rhodri rhan Hywel yn yr Opera Gymraeg, Blodwen gan Joseph Parry gyda chor Llanpumsaint, ac hefyd gyda Cor Cymysg Dyffryn Conwy y mis diwethaf. Mae hefyd wedi perfformio rol y Tenor yn Elijah gan Mendelssohn, Crucifixion gan Stainer, Mass yn F Minor Bruckner, Messa Di Gloria, Puccini, Messiah gan Handel a Requiem Mozart.
Yn ystod ebrill bu Rhodri yn rhan o led gorws Opera Cenedlaethol Cymru ar eu cynhyrchiad o'r Opera Gair ar Gnawd gan Pwyll ap Sion.
Yn ddiweddar mae Rhodri wedi derbyn y Help Musicians Uk Fleming Award. Mae ef yn hynnod ddiolchgar am eu cymorth parhaol.
Rhodri Prys Jones is a 22 year old Tenor from Llanfyllin, Mid Wales. He graduated with a BA Hons 2:1 degree in Music and Media from The University of Wales Trinity St David, Carmarthen, studying with Buddug Verona James. He is now in his second year Masters in Vocal Studies at the Guildhall School of Music and Drama, London, where he is studying with Tenor Adrian Thompson. Rhodri was the recipient of the Help Musicians UK Maidment Award 2014, in which he is very grateful for their support. He is a familiar face on Welsh television and has been competing in Eisteddfod's since he was a young boy. He was runner up of Llais Llwyfan Llambed Scholarship 2013, Winner of the Challenge Solo at Upper Chapel Eisteddfod 2014, Winner of the Lieder Competition at the National Eisteddfod of Wales 2014, and also a finalist for the Bryn Terfel Scholarship 2013 and 2015. In summer 2014, Rhodri went on a tour of Wales with Opra Cymru performing Tchaikovsky's Eugene Onegin where he played the role of Triquet and was a cover for Lensky. Rhodri has been in all four opera choruses this year at the Guildhall performing ; Francesca Di Foix, The Adventures of Pinnochio, San Giovanni Batista and most recently, The Cunning Peasant. Rhodri has recently performed the role of Hywel for both Conwy Valley Mixed Choir, and Llanpumsaint Choir's performances of the Welsh Opera, Blodwen. Early this year Rhodri performed the tenor role in Handel's Messiah with Glandulais Choir in Llangennech. He has also performed the tenor solo for Mendelssohn's Elijah, Stainer's Crucifixion, Bruckner's Mass in F Minor Pucinni's Messa Di Gloria, and Mozart's Requiem during the past few months.
During April, Rhodri was in the semi chorus for Welsh National Opera's production of Gair ar Gnawd by Pwyll ap Sion.
Rhodri has recently received the Help Musicians Uk Fleming Award for whom he is extremely grateful for their continuing support.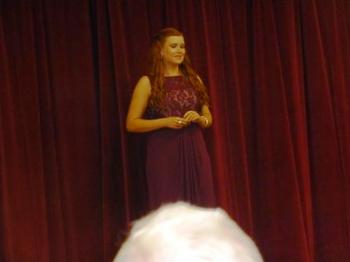 Meinir Wyn Roberts
Meinir Wyn Roberts is a Soprano from Caernarfon in North Wales. She graduated from the Royal Northern College of Music with a First Class BMus (Hons) Degree having studied with Sandra Dugdale. She is currently on a two year Master of Arts course at the Royal Academy of Music in London studiyng with Lillian Watson.

Her operatic roles include Fiordiligi - Cosi Fan Tutte, Soeur Constance - Carmelites, Flower Maiden - Parsifal (RAM Opera Scenes) Carmen Chorus - (Nevill Holt Opera) First Young Tree/Chorus - Paul Bunyan (British Youth Opera,)Chorus - La Boheme (Nevill Holt Opera,) Julia The Grand Duke – G&S (MUGSS). She played the role of Colette in The Drunkard Reformed by Gluck and Fortuna in the RNCM production of Il Ritorno d'Ulisse in Patria. Her opera scene roles at the RNCM include Nannetta (Falstaff,)Zerlina (Don Giovanni,) Lucia (The Rape of Lucretia,)Gretel (Hansel and Gretel) and Rosalinde (Die Fledermaus.)

In the summer of 2015 Meinir won the 'International Voice of the Future' prize at Llangollen International Eisteddfod and the prestigious W.Towyn Roberts Scholarship at the National Eisteddfod of Wales. She was one of the six finalists competing for the prestigious Bryn Terfel Scholarship in October 2015. She was very highly commended in the Isabel Jay Prize at the Academy this year and she is a member of the prestigious Song Circle there too.

The Eisteddfod has been a significant performing platform for her since she can remember. In 2014 Meinir was the winner of the prestigious Osborne Roberts Blue Ribband Award having won the Operatic solo category. Following this success she was also awarded the Violet Mary Lewis Scholarship for the Most Promising Soprano in the competition. In August 2015 she was a soloist at the North American Welsh Festival in Columbus Ohio as a part of the Blue Riband Scholarship.

Last year Meinir was a finalist in the prestigious RNCM Gold Medal Competition and was a prize winner of The Elizabeth Harwood Memorial Award. She was a finalist in the MOCSA Young Welsh Singer of the Year 2014 and Dunraven Young Welsh singer of the year 2014. She was highly commended in the Frederic Cox Award for Singing and a recipient of the Dame Eva Turner Award.

Meinir is kindly supported by the Ryan Davies Memorial Fund, The Seary Trust, Hartsheath Charitable Trust, The Richard Stapley Trust, The Kathleen Trust, The Elizabeth Evans Trust, Lucille Graham Prize and The Maida Jones Award.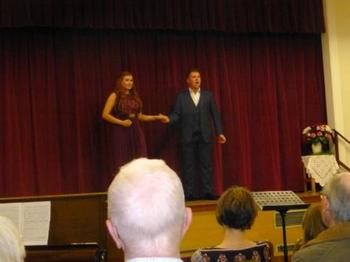 Deuawd, canwyd y gan boblogaidd Hywel a Blodwen
A duet singing the popular song Hywel and Blodwen
Cyngerdd Blynyddol Cor Meibion Bro Aled 2015 Statistics: 0 click throughs, 608 views since start of 2018

Cyngerdd Blynyddol Cor Meibion Bro Aled 2015
Hysbysebu'r noson
Advertising the evening